Finally, itís here! The new AIR FORCE BLASTER SIDEKICK. MADE IN USA the SIDEKICK is a compact, powerful hand held motorcycle dryer that is small enough to put into a saddle bag yet strong enough to dry a bike off in minutes! No more water spots or streaking!
At just over 3 pounds the all steel SIDEKICK produces a large volume of warm filtered air and is great when at home or on the road. At a suggested retail of $134.95 it is a natural purchase for those bikers that did not want to spend $329.95 on the original BLASTER. In addition, based upon our research current owners of the BLASTER are also likely purchasers of the new SIDEKICK dryer because of its portability.
The BLASTER SIDEKICK features: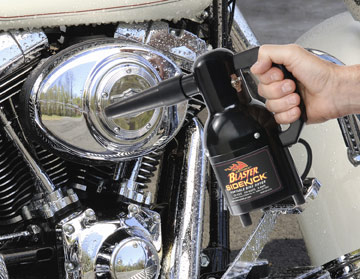 We also have a new snap on Velcro 4 wheel dolly available for the BLASTER.
---